Product(s): The 67 Steps & Social Media Marketing Agency SMMA
Cheapest Price: SelfMadeNewbie.com (Discounted Link & Bonuses)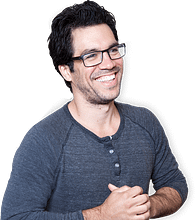 Overview
Tai Lopez burst onto the Internet Marketing scene at the end of 2014 beginning of 2015 and for the next 3 years became a major name in the online marketing world as well as becoming a successful Meme based on his "Here in my garage…" YouTube advertisement.
Tai was ripped to shreds by the commentary community who labelled him a scam artist, and ridiculed him, accusing him of having fake exotic cars and that his home wasn't even his.
It didn't take long for the haters to back track and even seek Tai out for Interviews after they found out that people joining Tai's programs where actually finding success. A lot of success.
Is Tai Lopez a Scammer?
In my opinion Tai's programs are akin to home fitness workouts. People like to compare fitness programs and ask the question, "Does it work?!"
The real question is not does it work, the question is, "Are you going to work?"
I can't think of any fitness program out there that doesn't work. Most are the same formula. They offer a variation of exercises, which is their unique angle, along with a diet plan.
Now, if you follow an exercise and diet plan, you will lose weight. It's as simple as that.
Similarly to an exercise program, with Tai's program, the advice and information is sound and correct. But, it's up to you to go out there and do the work.
Think of his programs as exercise programs, but for your brain and bank account, not your body. But similarly, you get out what you put in.
Tai never promises that you'll make money without doing anything, which is why calling him a scammer is disingenuous
Personal Experience
My personal experience with Tai's programs dates back to early 2015. I was probably one of the first people to get into his 67 Steps program.
It was a time in my life where I was lost, and creepy Google targeting somehow knew that?
In late 2014 early 2015, something inside of me turned on. Like a switch and I knew I wanted to make money online and pursue a life of complete freedom. Freedom from low earnings, and having a boss, and a job.
I not only bought into the 67 Steps, but I also read all 150 of Tai's Top recommended books on his Book page. In fact it was that list of books, a lot of them based on evolutionary psychology, that was likely the catalyst of being atheist.
I'd flooded my brain with information and it changed my at my core.
Tai's 67 Steps program is essentially all of those books thrown into 67 videos, and very well mind you. He's essentially giving you 67 gold nuggets of life. Some are ok, but some are extremely profound, motivating and give you those "Ah ha! I know what I must do" moments.
Conclusion on the Programs
Having only purchased the 67 Steps and the SMMA programs, I can only comment on those honestly.
The 67 Steps is great if you are lost. School is not doing it for you, and you want some direction in life. After completing it, you will be instilled with a lot of wisdom, and motivation. From this you will likely have a rough idea on how to move forward in your life. You will have direction.
SMMA is one thing that could very easily follow on from the 67 Steps, as could his Ecom course. The reason for that is, after the 67 Steps you will know what you should be pursuing in life and where your strengths are. This translates well into any online business model, such as SMMA, especially when it comes to niche market selection.
The SMMA course is also massive. It comes in 4 stages. Setting up a business, learning about social media, acquiring clients, and advanced material on outsourcing and making your business automatic.
Tai teaches hardly any of it. Instead, you have top Social Media Marketing CEO's teaching most of the course. They are legit, and really know what they are talking about.
There is a tonne of knowledge in there and it's very easy to get setup, and acquire clients in this new industry that is only going to get bigger and bigger.
Wrap up…
In life there are known-knowns (I know I can speak English), known-unknowns (I know I suck at baseball), and unknown-unknowns.
The 67 Steps will teach you a lot of the unknown-unknowns. Things you've never thought of. Things you don't even know that you didn't know.
If you are looking for direction in life, and are willing to put in the work I would first sign up for the 67 Steps. Then from the Vault area click on the SMMA button or any others that peak your interest.
QUICK NOTE
Clicking the link below will take you to my Bonuses Page. Clicking the links on the bonus page will then take you to Tai's sales page where you will get the most current pricing on his products (he always does specials and promos).
Upon receiving Tais product, send me an email with your receipt to chris@selfmadenewbie.com and I'll send the bonuses directly to you.
Unfortunately, there is no automated way of getting bonuses to you other than this. Apologies for the inconvenience, but you will get your bonuses very promptly after Emailing me.